Nick Jonas and Selena Gomez supposedly dated for a year and they weren't very seriously into their relationship. In 2008 their love began and lasted till 2009. She was once asked about her former boyfriend, Jonas' sexuality. Here's what she said.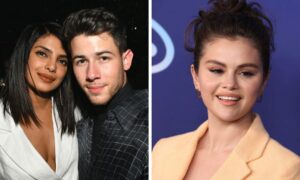 Priyanka Chopra is married to American singer Nick Jonas, who is quite a popular name in the Hollywood music industry. Many are envious of their closeness and camaraderie and desire to have one.
Nick Jonas and Selena Gomez
Before Nick fell in love with Priyanka and married her, he already had a history of dating many other hollywood celebs. Comes into picture Selena Gomez, Nick and Selena reportedly were in a relationship for one year. Back in 2016, Selena had spoken about Nick and if the fact that both Miley and her dated him caused a feud between the two. "We never feuded. We both liked the same guy when we were 16. It was just a Hilary Duff–Lindsay Lohan thing: 'Oh, my God, we like the same boy!' We are now completely settled in our own lives," she told W magazine.
Selena has also dated singers Justin Bieber and The Weeknd. There have been reports of her dating producer Andrea Iervolino lately. A source told US Weekly though, "Selena and Andrea go way back and have celebrated her birthday together many times before. They have become close over the years after working together on In Dubious Battle in 2016. They have an amazing time together but there's nothing romantic going on between them."
All these years later, Selena and Nick have still managed to have a sense a humor about their relationship. In 2018, nearly a decade after their initial split, Nick appeared on BBC Radio 1's Heart Rate Monitor, where he answered several questions about his past. In one clip, Selena appeared on the screen and asked him to explain a date they had had.
Nick said that back then, he and his brother Joe tried to keep their relationships as private as possible. During a group outing to Central Park, Nick said he felt they should stay "25 feet apart" to avoid dating rumors. While the action kept the paparazzi away, Nick admitted he "ruined" Selena's trip to the tourist attraction. Fortunately, Selena isn't upset by the Central Park diss anymore.
Selena is currently seen on Only Murders in the Building and Nick Jonas has some performances lined up.
Selena Gomez Asked, if Nick Jonas is Gay?

Back in 2018, Selena appeared on Andy Cohen's chat show and was asked about Nick Jonas's sexuality. The host Andy Cohen had asked Selena, "Nick Jonas, the gorgeous, ever gorgeous by the day Nick Jonas, he has played, recently, gay roles in Scream Queens and Kingdom. All gay men want this dude to be gay. Not me. On a scale of 1-10,10 being as gay as me, how gay is Nick Jonas?" Responding to this, Selena said, "I dated him. Like zero."
Nick and Selena dated for one year and it is reported that they couple an item and weren't very serious in their relationship.  After his break up with Selena, Nick fell in love with the desi girl Priyanka Chopra and got married within a year of their relationship. Nick Jonas is one of the most desirable men and he left his fans heartbroken.
Nick and Priyanka had their first child, a baby girl named Malti, via surrogacy earlier this year. The 29-year-old musician is loving every minute of his new parenting phase. Priyanka released the first photo of her baby girl on Mother's Day and stated that she had come home after spending 100 days in the NICU.
See Also: Five takeaways from the 2022 Emmy nominations